Freedom of Information/How to Access Information from a Scheduled Public Authority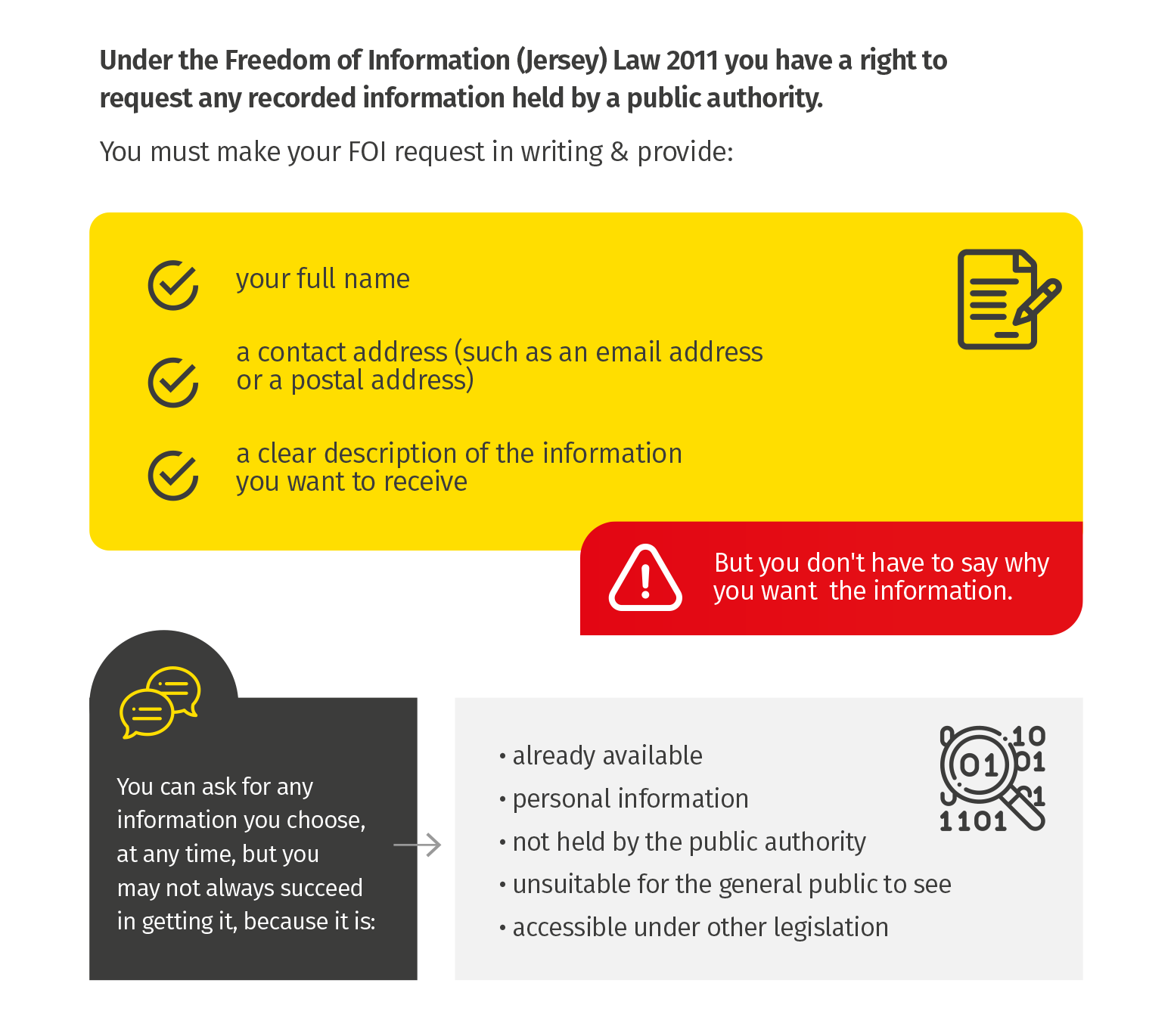 How to access information from a scheduled public authority (SPA)
The Freedom of Information (Jersey) Law, 2011 gives you the right to access official recorded information held by an SPA in any format. This includes printed documents, computer files, letters, emails, photographs, and sound or video recordings.
An SPA is basically an official authority. The following States of Jersey departments fall under FOI legislation:
Chief Minister's Department
Department of the Environment
Department for Infrastructure
Economic Development, Tourism, Sport and Culture Department
Education Department
Health and Social Services Department
Social Security Department
External Relations Department
Community & Constitutional Affairs
Treasury and Resources Department
States of Jersey Police
States Assembly (including States Greffe)
Ministers
Judicial Greffe
Viscount's Department
You have to make your request in writing to the SPA (e.g. a letter or email). It should be clear, concise, have a serious purpose and say specifically what information you want. Don't make broad requests such as 'Send me everything on X', which will be refused.

Note: you might not get the information you want. Some of it could be exempt, prejudice national security, damage commercial interests, or reveal personal details about another person. However, you might be able to access it under a different law e.g. if you need documents for legal purposes, the details of a dead relative or your own personal information such as health records or credit reference file.

The SPA doesn't have to comply with your request if it's evident you don't have a real interest in the information or it's sought for an illegitimate reason (e.g. purely to cause administrative difficulty or inconvenience).

You can expect a response within 20 working days; you'll either receive the information or the SPA will give you reasons why it can't do so. It may ask for more time but it must respond no more than 65 days after the initial request. You can complain if you're not happy with how your request has been handled.

To find out more you can download our guide here.